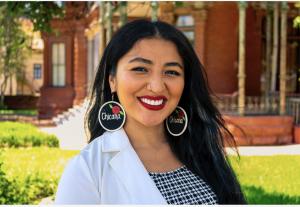 Graduate Student
Teaching Associate
Specialization
:
Health; Social Inequalities; Family; Feminist Theory; Socio-Legal Studies; Visual Methodology 
Education
:
Ph.D., Sociology, Expected 2024, University of California, Santa Barbara 
M.A., Sociology, University of California, Riverside 
B.A., Chicana/o Studies, University of California, Los Angeles 
Bio
:
Katherine Maldonado Fabela is a mother scholar from South Central Los Angeles, and a PhD candidate in the Department of Sociology at the University of California, Santa Barbara. Her research interests include medical sociology, inequalities, critical criminology, and visual methodology. Her research previously examined the experiences of gang-affiliated mothers and the health effects of criminalization and violence, what she conceptualized as life course criminalization. She is building on this work in a global comparative ethnography on gangs in collaboration with the Foundation for the Graduate Institute of International and Development Studies in Switzerland, examining maternal stressors of gang-affiliated mothers. Currently, her research examines the experiences of Latina/Chicana mothers with the carceral system, specifically the child welfare system. The investigation centers the institutional violence that mothers navigate via child welfare, how it affects their mental health, and the ways they resist and heal from multiple forms of criminalization through motherwork strategies. 
Katherine is a Pre-Doctoral Ford Foundation Fellow, American Sociology Association Minority Fellow, and American Association of University Women Fellow, among others. Her research has been funded and recognized by grants including NSF, Abolitionist Teaching Network grant, Women's Health, Gender and empowerment grant, among others. Katherine's research has been published in the Journal of Critical Criminology, Aztlan Journal of Chicana/o Studies, Criminal Justice Education as well as multiple book chapters. Her work has been included in policymaking toolkits at the United Nations and she has served as an expert witness in immigration asylum cases.  
Recent Interview at the United Nations in Vienna 
Link to the toolkit
Publications
:
Maldonado Fabela, Katherine. 2023. In the Spirit of Struggle: A Barrio Pedagogy Compass of Love, Care, and Compassion. Journal of Criminal Justice and Education. 
Maldonado Fabela, Katherine. 2022. "In and out of crisis": Life course Criminalization for Jefas in the Barrio. International Journal of Critical Criminology. 
Maldonado, Fabela Katherine. 2018. "The Youth Control Complex: Gang-Affiliated Latina Mothers Navigating Hyper-Criminalization" In Racial Profiling, Crime, Prison Reform, and  Police Use of Deadly Force in Latino Communities. Pp. 232-247 Aztlán Journal 43(2). 
Garcia, N., Ibarra, J., Mireles-Rios, R., Rios, V., Maldonado, K. 2022. "Advancing QuantCrit to Rethink the School-to-Prison Pipeline for Latinx and Black Youth" Journal of Criminal Justice Education 
Garcia, J., Trummel, T., Cornejo, M., Maldonado, K., Ojeda, A., Flores, H., Link, B. 2021. "Immigrant Health Inequities: Exposing Diversions and White Supremacy." in Immigration and  White Supremacy in the 21st Century. Journal of Social Sciences. 
Courses
:
Instructor for SOC 144LA in Fall 2023